We designed a mobile sheep shelter that can be easily moved by one person and protects sheep from the elements. As a side benefit, it gives you a place to keep minerals dry and our Katahdin Hair Sheep have discovered the panels make a great scratching post to help remove all that shedding hair in the spring.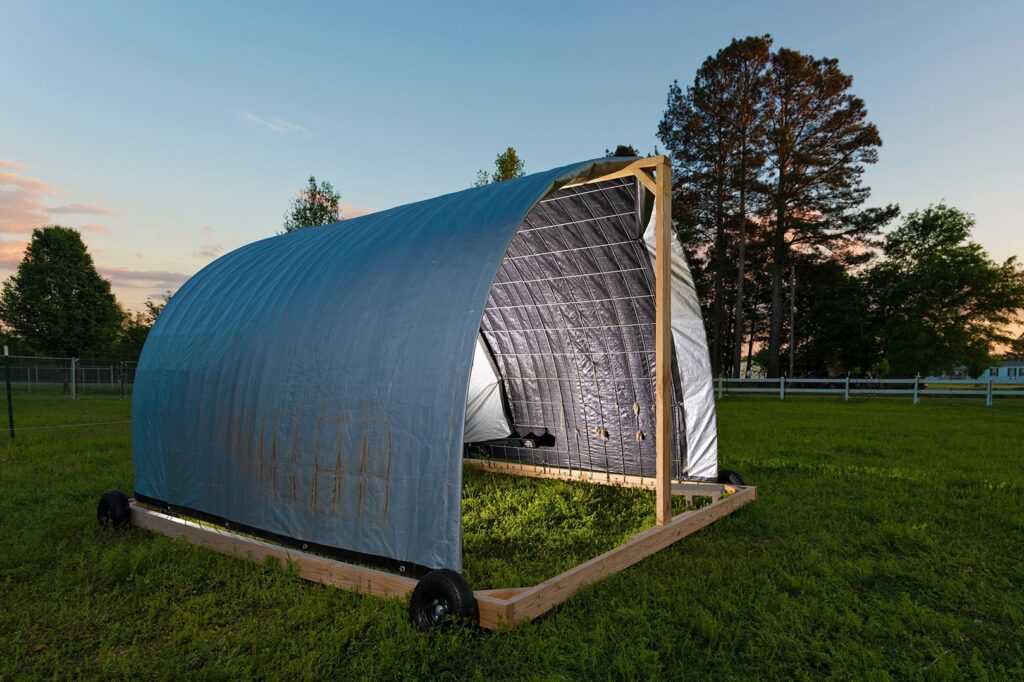 Why a Mobile Sheep Shelter or Mobile Goat Shelter?
When we first embarked on our journey into sheep farming, we knew we wanted to use rotational grazing to reduce the parasite problems sheep are prone too. So we built all the perimeter fences, grabbed reels and reels of poly braid, an electric fence charger, and started shopping for parasite resistant Katahdin Sheep. Imagine our surprise when it dawned on us that we can't move our barn into every paddock we created!
We began scouring the internet for information and videos for ideas on building a lightweight, mobile sheep shelter that could be moved easily and without ATVs or other vehicles. Since we move our sheep approximately every three to five days, we didn't want the added hassle of having to take down electric wires to bring vehicles into the paddocks, or needing several strong people on hand every time we wanted to move sheep (and all of their necessary equipment) into a new area.
Most of the mobile goat shelter plans and mobile DIY sheep shelter plans we found on the internet weren't going to work for us. Many were solid wood structures built on skids. Wood shelters can be expensive, heavy, and not easily moved. Inexpensive versions made out of pallets weren't going to stand up to years of weather damage. We found other versions made of simple cattle panels, but they didn't have enough structural support to withstand the tropical storms we have during hurricane season in North Carolina.
This mobile sheep shelter can be modified to be larger of smaller to fit your farming needs and is affordable enough that you can build several if you have different breeding or age groups to consider. We have built several that are 10 ft. x 13 ft. that use three cattle panels instead of two. This larger size easily accommodates about 12 Katahdin Sheep comfortably, but we've seen 15 cram in there when needed.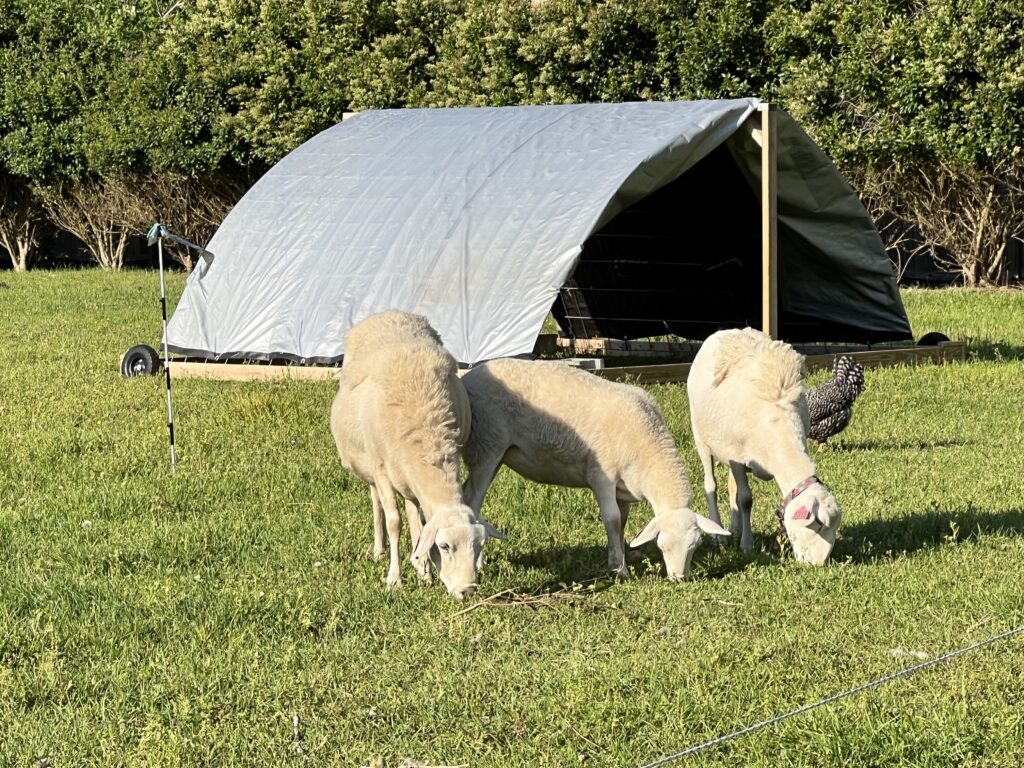 Mobile Sheep Shelter Materials List for an 8 x 10 Structure
(3) 10 ft. long pressure treated 2x4s
(5) 8 ft. long pressure treated 2x4s
(2) 16 ft. x 50 in. galvanized cattle fence panels (we bought at Tractor Supply)
(1) 16 ft. x 12 ft. weather resistant, durable tarp (we bought at Harbor Freight)
(4) 10 in. pneumatic tires with 5/8 in. axle bore (we bought at Harbor Freight)
(4) galvanized hex bolts, 5/8 in. x 6 in. (we bought at Lowes)
(8) galvanized steel hex nuts, 5/8 in. (we bought at Lowes)
(8) galvanized standard flat washers, 5/8 in. (we bought at Lowes)
(110) wood to wood deck screws, 2-1/2 in. long (we bought at Lowes)
(50) double barbed fence staples, 1-1/2 in. long (we bought at Tractor Supply)
(50) black zip ties, 11 in. size (we bought at Harbor Freight)
Mobile Sheep Shelter Building Instructions
Building the "Base Frame" for the Mobile Sheep Shelter
Take (1) 8 ft. 2×4 and cut (6) 8in pieces with a 45 degree angle on both ends for the corner supports. Take the remainder section of the same 8 footer and cute into 4 equal sized pieces. These will be used to support the vertical center support in next section.
Make a rectangle with (2) 10 ft. 2x4s and (2) 8 ft. 2x4s on level ground. When placing boards into the rectangle, the narrow side should be facing the sky (the 2 in. side) and the wide side (the 4 in. side) should be facing inside of rectangle. Make sure to place the 8 footers on the outside of the 10 ft. boards. This will give you enough room for the wheels later.
Screw the corners of base frame together with 3 screws into each of the boards (6) per corner. Use (4) of the corner supports you made earlier and screw them in place. Be sure to screw corner supports into place from both directions – from inside to outside, and outside to inside. Minimum (8) screws per corner
Bend both cattle panels (2) into place making an arch. They should be flush against each other with no gap. The end of each cattle panel should be touching the 10 ft. boards, not the 8 ft. boards. The cattle panels should be slid into the center of the base frame, and be roughly 3.5 in away from each corner support to give room for wheels.
Secure cattle panels to 10 ft. boards with double barbed fence staples, making sure to nail into both vertical and horizonal wires of cattle panel. You want the end of cattle panel to be roughly 1/4in -1/2in from the bottom of the 10 ft. board(closest to ground). Use a scrap piece of 1/2 inch plywood to hold panel off ground and keep panels level if you need to. Repeat on other side
Zip tie cattle panels together every other bar in the center line where they touch. Make sure the end of zip tie is on the inside of shelter so they don't damage tarp.
Building the "Upright Center Support" Frame of the Mobile Sheep Shelter
Building the upright center support frame of the mobile sheep shelter should be assembled while laying on the ground, in a separate area from the base shelter you just completed. That way it can be screwed into the base shelter after all pieces are completely assembled into one piece for easier maneuvering.
First, it is important to get accurate measurements.

Standing in the center of the "rectangular base frame," measure the length of each 8 ft. side between the 10 ft. boards. (All 8 ft. 2x4s have some slight variations, so measuring is important.) Make a mark at the center point on each of those 8 foot sides. It will be easier to see the mark you'll need if you place it on the narrow portion of the boards (the part facing up to the sky.)
Next, measure upwards from bottom of the 8 ft. boards on the "base frame" boards (at your mark) to the highest point of cattle panel above the mark.. Take that measurement and substract 1.5 inches (because all 2x4s are 1.5 inches thick and we need to place the 10 ft. center beam on top of the vertical-center support pieces).

Cut the remaining (2) full-length 8 ft. 2x4s to the previous measurement number you got in the previous step. Lay the cut pieces narrow side facing the sky on a flat surface approximately 10 feet apart, parallel to each other.
Imagine the boards in the previous step were placed upright, supporting the cattle panel arches, one on each side of the "base frame." The remaining full-length 10 ft. board needs to be placed on top of those vertical center support boards.
Make sure the 10 ft. center support board is setting on what will eventually be the top of (even though it is laying on ground during assembly), but also flush to the front of the 2 vertical center supports. If the 10 ft. board has any natural curvature, make sure you place it where it is arched high in center, lower on ends.
Secure 10 ft. center support board with the 2 vertical-center supports with 3 screws from each board, a total of 6 screws per upper corner. Place last 2 corner supports in the two upper corners and secure as previously instructed during the "base frame" build.
Completing the Mobile Sheep Shelter
Take the completed center support and place it into shelter (it might take some tilting and maneuvering). Secure with screws at the centerline marks you made earlier.
Installing the support blocks on "Upright center support frame" Take the remaining 4 wooden blocks left over in the very first step of this instruction sheet. They will be used to support the vertical center supports of the "upright center support frame" to keep it from wiggling side to side in winds. Place the vertical support blocks parallel with the 8 foot board of the "base frame" (one block butting against each side of the 2 upright supports.

Be sure the bottom of vertical support block is not below horizonal 8 foot board of the "base frame. Secure from both directions, inside to outside, and outside to inside. Screw from both directions inside to outside and outside to inside. Also screw at an angle into vertical center support.

Anchor cattle panels to the top 10 ft. board of the "Upright center support frame" using double barded fence staples.
Placing the wheels on the "base frame": Drill a 5/8 inch hole in center of each 3-1/2 in space you left on the sides of the anchored cattle panels. Make sure the drill is level when drilling hole or your wheel will be crooked and rub. Place bolt through tire then add a washer, then place bolt and washer assembly through the 5/8 hole. On the inside of base frame, add another washer and then finish with one nut. Secure where tire will still spin freely. Take a second nut and secure on top of nut previously installed. Tighten against nut while simultaneously loosening the first nut. Repeat on the three other corners.
Secure tarp with Zip ties ensuring the 16 foot side of tarp is going up and over the cattle panel arches. Be sure to fold over any excess tarp in the front or back of shelter and securing it well to prevent wind catching the flaps.
Adapting the Shelter into a Mobile Goat Shelter
One recommended adaptation we would recommend if this will be used as a mobile goat shelter is to add (2) additional 10 ft. 2 x 4s. Due to the nature of their climbing, instead of only attaching the cattle panels with Double Barbed Staples, we recommend "sandwiching" the cattle panels between (2) 10 ft. boards for added stability.